While most of the south of England was battling with storms and floods, mid-Somerset enjoyed a break of lovely sunshine. Some 22 Bassets plus a varied assortment of terriers, collies and Labradoodles (work it out) AND a marriage of basset and beagle (bagle?) somehow tagged along for this undulating five miler.
Newcomer hound Norman enlivened the proceedings with his penetrating voice which – in the right conditions – could be heard over most of the West Country.
The first excitement was to meet an inquisitive herd of cattle, who quite possibly had not encountered a pack of Bassets before. The ensuing stampede did credit to the best B-movie. It was also noticeable which owners were country folk, and which were, let me say, more used to parks? All part of our education.
The optional hill up to St Michael's Tower was taken by most, with an unexpected variation on the way down (unexpected by the leader that is), but the party managed to regroup to proceed to the outskirts of lovely Montacute.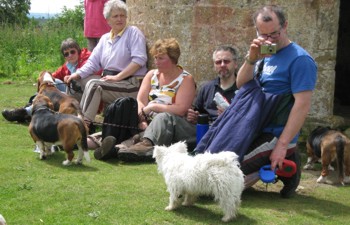 Envious eyes were cast at The Priory, till someone worked out that the rates would cripple most of us.
A gentle meander brought The Pack to the lost village of Witcomb and an unexpected encounter with a gypsy + caravan + horse. None dared to ask why he was drinking mead (so he said) from what looked like a silver cup . . .
The final walk brought us back to The Prince of Wales where drink was taken and enjoyed.