After months of rain it was a pleasant surprise to enjoy a six miler over the Marlborough Downs with some 16 hounds - but on a bitterly cold day. Sadly Dawn's Henry had to retreat soon after the start due to a suspect pulled muscle (that's her hound not hubby).
As soon as we arrived at an open field Maude started her challenging bark and chase which was eagerly taken up by much of the pack to the joy of us all.
Distant views were enjoyed but we didn't linger but hurried down to Calstone Wellington church and along a quiet road to hit some treacherous mud and along a tiringly boggy Ranscombe Bottom (NT) attempting to keep up with our ex SAS leader Guy. A quick lunch was taken tucked behind a partially sheltered hill. Suitably refreshed we scaled the end of the valley looking across to Cherhill monument of past walks to reach the Wessex Ridgeway. From here the mist gradually descended from where on the Wansdyke ancient ditch we saw half a dozen deer a few hundred yards away - but not regrettably by The Pack.
The final very muddy and slippery combe led us back to our motors and civilisation.
Our thanks to Guy for launching the 2013 walk programme.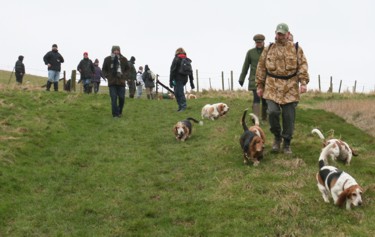 Guy in combat dress ready for The Enemy.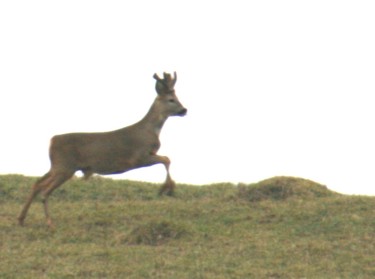 A leaping deer: beat that. Captured by Ted Querzani's camera but not sadly by The Pack.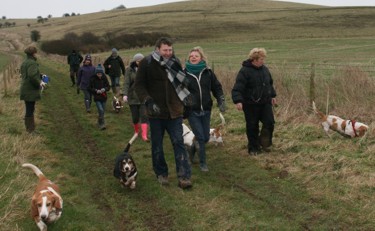 Mist comes down on the Wansdyke.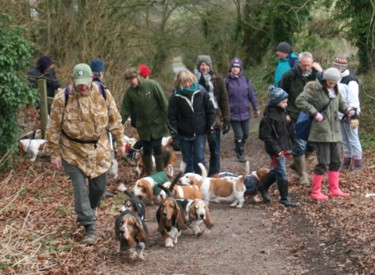 Guy leading us off.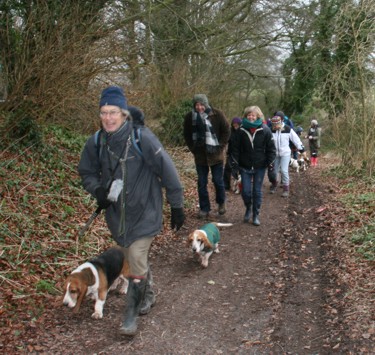 Your cameraman trying to keep warm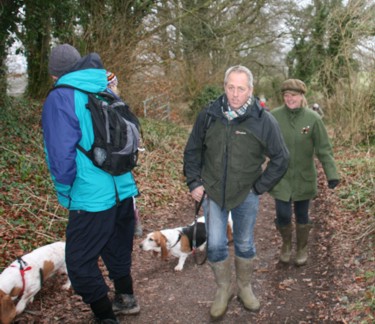 Malcolm with Heather, perhaps pondering how they got talked into leading next month's walk. (Don't worry - it will be fine).
Lunch stop, above and Sam below "you're not going to eat it all yourself?"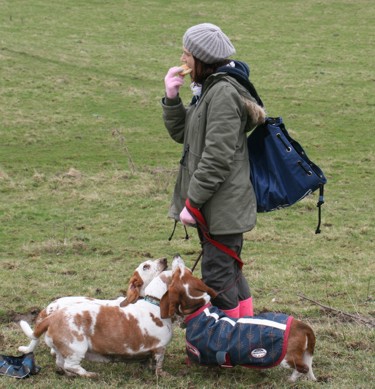 Left: Guy, Tina - and Gilbert