To see an 8 minute video, please click here.
Nineteen Bassets endured the Wiltshire heat, and cast aside all thoughts of who would win the World Cup (football, duckie) to be played that evening. (Who won by the way?). Led by Guy & Sarah – but minus the promised fleece – we enjoyed a relatively placid and uneventful stroll along and around the Marlborough Downs. Only one hound decided he preferred the car after a mile and back-tracked, but he was speedily retrieved.
Water troughs were welcomed but none swam. My hounds spurned their usual lunch of dried and nourishing Bonios to begging tuna sandwiches. Oh dear. Newcomers appeared from as far away as a Dorking Pet Shop, sorry The Dorking Pet Shop, which was most welcome.
Photos are from Guy (below) and myself, so please send me the best of yours.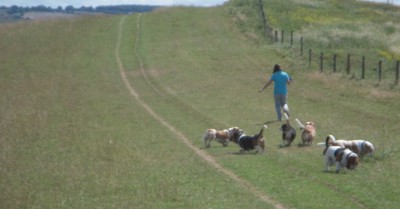 You're never alone with a Basset