Maybe because of half-term, the sunny weather or other excitements a select group of just nine Bassets + a handful of mixed terriers enjoyed a beautiful walk from Crowcombe Gate on top of the Quantocks, down through rhododendron woods then a gentle up and down and round till we climbed to the top of Dowsborough Hill Fort.
Lunch was partaken admiring Welsh Wales and Mel and Mike's distant house hidden at Combwich beneath us not far from Hinckley Point Nuclear Power Station.
From here we strolled downwards to Lady's Combe and a welcome stream, then rather steeply up to the ridge again and brilliant warm sunshine. Wee Fred a newcomer foot long terrier of indeterminate genealogy – at least to Basset owners – disappeared, again - but despite Mary's protestations that "he'll be alright", a search party was organised heading towards fretful barking.
Fearing caught in a trap, we were somewhat relieved to see him holding a ram at bay, deep in a combe. (Would never happen to a Basset of course).
A cream tea at Triscombe finished off a memorable day out.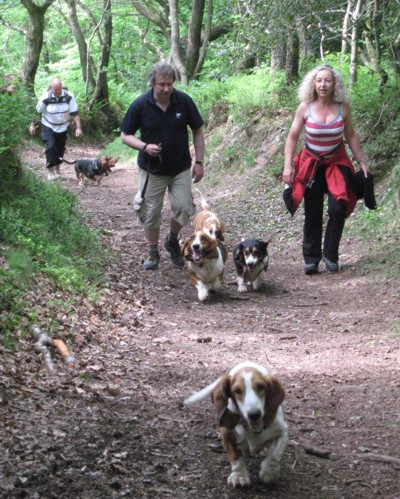 A slight rise ably coped with by Guy, Brian and Sarah.