Thanks to walk leader Guy another pleasant day was enjoyed strolling through the extensive Savernake Forest. Sadly the owner Earl of Cardigan was not spotted.
First timers included Frank, son of Norman – he of the exceptionally loud voice – but perhaps disappointingly he failed to live up to his ancestor: perhaps because he concentrated most of his attention on wooing (is that the right word?) every bitch in sight. No wonder he needed to cool off in the only puddle seen in five miles (see video for more explanation).
Plus a guest Basset called Dennis, a Truckelhund – a Dachshund relative – who has so far killed three hedgehogs a pheasant and an adder, but maybe not all on the same day.
We were pleased to welcome new walkers from Salisbury (not far) Bournemouth and London.
The walk was in two halves. A gentle four miles returning to the picnic barbecue spot, then after a hearty lunch a further mile and a bit for those who needed to walk it off. We were all impressed by Mark's mobile cooker: he could have sold out with bangers.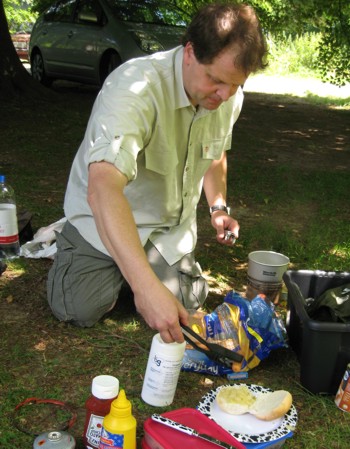 One topic of conversation was "how to stop bitches' wee burning the lawn." Short of dashing out with a watering can after every visit, some thought that adding tomato sauce to the drinking bowl may help. Not having shares in Heinz Guy suggested pinching Little Chef sachets a practical solution. Tut, tut.
Other solutions welcomed.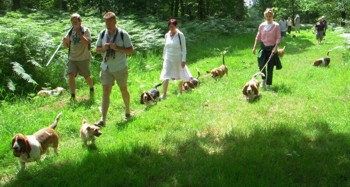 Make a note for our next walk at Ashmore Woods, just south of Shaftesbury on August 9th.