We last walked this in November 2015 and will be our 110th outing. It's included here to attract the Bristol and Glos owners so hope you can make it.
On the north side of the Mendips we walk through woods and open moors bypassing the many caves and potholes - unless your hound smells an underground rabbit - in which case . .
There are extensive views mainly north over to Bristol and Bath and perhaps even Welsh Wales acrosss the Bristol Channel.
We start at 10.30 just south of a large café near the Rock of Ages where in 1763, the Reverend Augustus Montague Toplady - lovely name - while sheltering from a storm wrote down the words on a playing card (see right. His other hymns include "Deathless Principle, Arise" which has not got quite the same ring about it, perhaps.) Please bring along your Hymns Ancient and Modern and we'll have a quick burst of the first few verses.
Map of start (click on image to enlarge)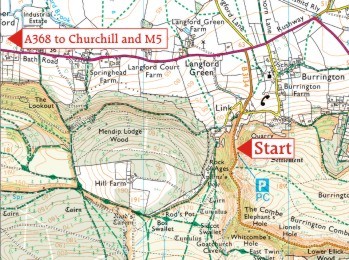 Directions to start
Those coming from Devon will need to leave the M5 at Junction 22 and follow the A38 north towards Bristol Airport. After about 10 miles turn right at the traffic lights at Churchill onto the A368. After 1.8 miles miles turn right to Burrington - photo right - on the B3134 and after less than half a mile drive past the large Burrington Inn and Rock café and Cycle Shop on your left and after crossing the cattle grid park on the left next to the loos. (SatNav of the inn is BS407AT or try "Burrington Combe" but ignore the last instruction to turn right when you're almost up to the inn, no reason for that).
Those coming from The North, or Wales, will leave the M5 at J21 and follow the A370 towards Weston, turning left at the A371 and then through Banwell, left on A368 Sandford to Churchill as above.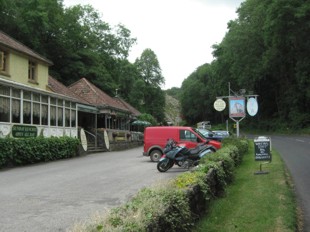 Our walk (5 and a bit miles) leads from the inn above up a modest slope and into the woods with extensive views north over the Harptree valley and west over to Wales. Our furthest point is the ramparts of Doleberry Warren hill fort - I would think about the most extensive in Somerset but I can find little about it.
We drop down to the valley via some helpful wooden steps then meander up to the hamlet of Rowberrow and the Swan Inn where we could tarry awhile to sample the very local Butcombe ales - and locally made pork pies (£2 each).
From here it's down and then across some open Mendip moors near to some swallets and various caves - the whole ground beneath our feet is riddled with caves.