This will be just the second time we've walked here, making this our 104th walk. Last March it proved to be a pleasant four mile gentle stroll among the fields and woods a few miles south of Taunton, five miles off Junction 25. And with a pub lunch stop. This time we should be joined by a family with their two Bassets all the way from near Frankfurt, who have been watching our videos. They will be staying five nights not far from Taunton, so it would be nice to have a good turnout.
Most of the walk will be on well managed fields with a generous grass headland left where a crop is planted. Some of the woods may well be a bit muddy, perhaps even damp but we will try and avoid the worst bits. We will stop for refreshment at the Farmers Arms, about halfway round. By luck or just good planning the last hundred yards lead through what should be a deep stream so our hounds should be quite clean at the end.
We start from the hamlet of Thurlbear, near Stoke St Mary, 1030am start as usual. (Click on map to enlarge).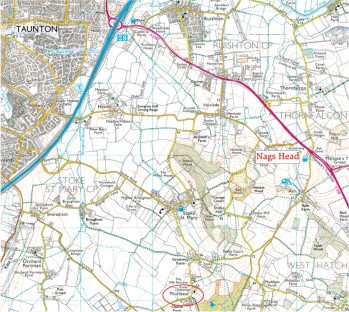 To reach the start. (SatNav of Thurlbear school is TA3 5BW).
If coming from Devon way or Bristol, the easiest way is to leave the M5 at junction 25, head south on the A358 to Chard/Ilminster - favourite road for speed cameras. After ¾ mile you will go onto a dual carriageway and after ½ mile turn right signed to West Hatch RSPCA Animal Centre* by the Nags Head thatched pub. If you reach some traffic lights up a hill you have gone past it. (This traffic light junction is called Thornfalcon or Knights Texaco garage).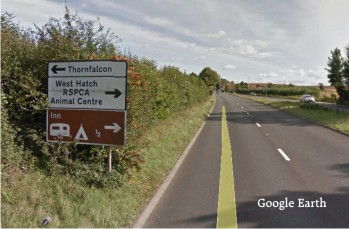 Now on a minor road after one mile turn right (see photo below) signed to Stoke St Mary.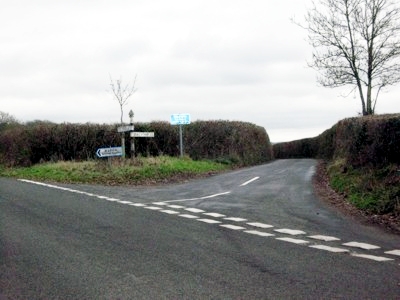 This a narrow road but with passing places. Ignore first turn to right but take next one signed to THURLBEAR. Drop down the hill and take first LEFT (unsigned) see photo below. (If you ignore this you will arrive in Stoke St Mary: retrace).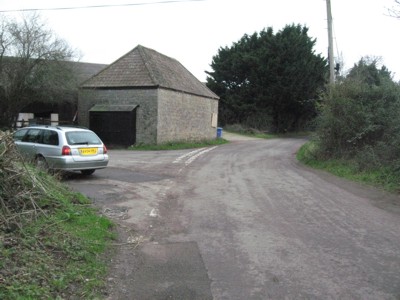 After less than half a mile you will enter the hamlet of Thurlbear with the village school on the left, and a long wall on your right and the church another hundred yards along (see 2nd photo on right). Park anywhere you can along here, meet at the church.
If coming from Chard/Axminster direction then you will come up the A358 to the Thornfalcon traffic lights when the turn left by the Nags Head will be very soon afterwards.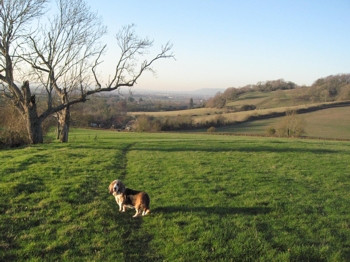 Below: " . . . some parts of the walk may be a little damp."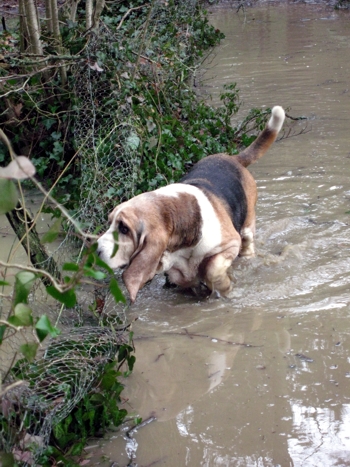 * This RSPCA centre is where they de-oil sea birds whenever a tanker runs aground. Seems an odd place to do it, but there you go. It's the only time this quiet corner of Somerset gets on TV.