This will be our 135th outing and we last walked here in May 2018 so well worth a return. (To see the video with 14 hounds see here.) (Incidentally to see it at its sharpest click Settings then Quality and the highest shown). It is a lovely walk through mature woods and fields and starts at the pretty village of Ashmore. It is a whisker under five miles and with no hills to speak of.
Half way round we stop at the village of Tollard Royal - you can smell the money and many will wish to sup at the very posh King John hostelry: they do welcome dogs in the bar - and especially HOUNDS as the walls are full of pictures of them. The food is not cheap - but you pay for the ambience. (Madonna used to live up the valley - Guy Ritchie still does. His new wife's spaniel rubbed noses with my Melody last time: can you beat that?)
This is glorious country on the edge of Cranborne Chase, five miles south-east of Shaftesbury, Dorset, with Gold Hill – the Hovis ad – its most well-known feature. Half of the walk is through pleasant beech woods the rest along well used paths. Extensive views can be enjoyed.
We start from the neat village of Ashmore, by the duck-pond. There is no designated parking place so we will have to park (tidily) around this beautifully kept thatched village. For those who don't like hills, the walk is largely flat, with one almost imperceptible slope after lunch. (I hesitate to mention it but as you'll probably miss it unless I tell you - and I wouldn't want to get a reputation.) If you don't fancy the walk but can't resist the ambience of this inn, we should be there around 12.30.
To reach the start at 10.30 (SP5 5AA), most people will be approaching off the A303 near Wincanton via Gillingham, or from the A30 to Shaftesbury. Either way you will arrive at a large roundabout. Take the right hand lane following directions to A350 Poole/Blandford. Carry straight on at next small roundabout (Signed All Routes. Cemetery (think about that one). At the next large roundabout you will see the Half Moon pub straight across the roundabout. Turn left on the A30 (dual carriageway) signed to Salisbury then immediately right (south) along the B3081 signed to Melbury Abbas and Tollard Royal. Follow this road that drops and twists narrowly through Melbury Abbas, then up to a straight level stretch with long views to the right and the woods on your left. Ignore all left turns till you see the sign below to Ashmore.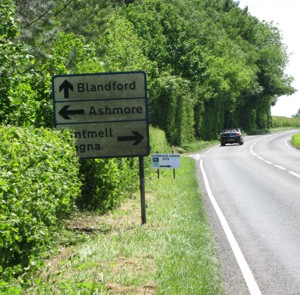 You will see a sign "single track with passing places" but it is quite wide enough. Drive for another mile to reach the village. We will meet by (not in) the duck pond at 10.30am.
The map reference is ST 912178 or postcode SP5 5AE. Click here to be taken to a map. For those who may just wish to join us for lunch, the SatNav for the King John is SP5 5PS.
And to see the proposed route map - and prove I'm not taking you up any mountains - just see here.