The Basset Hound Club Membership is just £9 a year. For reasons that I do not understand the long running S-W branch of the BHC folded a few years ago but has been absorbed as a branch of the Basset Hound Club of Wales. They hold some Fun Days and short walks. For their website see here.
The South East Basset Club followed suit soon afterwards - we were members 30 odd years ago. A cheerful bunch. The group is now called the Basset Hound Owners Club and their website can be found here. They maintain a good programme of walks and Bassets owners are always welcome to join in.
The BHC as of Spring 2018 would now seem to have only two branches, and by examination of their accounts probably only has some 200 members. Very sad.
Scotland Basset walking group: similar group to us, see here.
A new group is being formed in the Derby/Notts area. To see more click here to reach the Facebook page. (or Google Bass'adores Midlands).
---
Books on Basset Hounds (sadly not many of my list here in print, but you may pick one up at say Hay on Wye or on eBay.)

The Basset Hound: Marianne Nixon; 83 Fletemore Road, St Budeaux, Plymouth PL5 1UL: Tel 017523 61201 (price about £20)
Foyles Handbook: The Basset Hound ( E Fitch Daglish)
The Basset Hound (George Johnston: Pres of BHC and well known breeder)
All about the Basset Hound (Jeanne Rowett Johns)
The Basset Owner's Survival Guide: Diane Morgan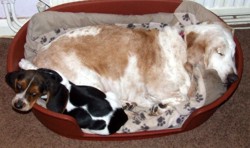 One of our walkers, Christine Paradine, has published a book on her hound Paxton, who is blind, and her life with animal rescue called Pawprints through my life. She has already sold 100 copies. Details here.

Websites

All things to do with the health of our breed can be found here, Bassetsrus, including lots of research on the known weaknesses and attempts to improve the well-being.

All Things Bassets is a newsy website. Usual registration to view. See here.

www.dailydrool.com is excellent and although US in origin there are quite a few of UK-ers who are members

www.bassettissimmo.com for Basset nuts (sorry can't think of any other way of describing this)

Basset boarding

We have used Jan Board at Langport for many years as she allows them in their house - not kennels - has a two acre field attached AND somehow gets them in her van and gives the pack of assorted dogs another walk in the woods. Several of our group have used her so she is well used to Bassets. Cannot speak too highly of her. See here.

One of our group - Jo Maunder - also offers boarding in the Paignton area and used to own a Basset. See here.


Know any more?

And self-storage facility

If you're looking for cheap and reliable self storage - mainly new shipping containers - try one of my clients here, near Taunton.