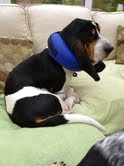 Thanks to everyone who offered advice for dealing with Humphrey & his post op period. I thought I ought to update everyone who was kind enough to contact me with ideas for 'coping'!




As suggested by one owner, I asked the vet to do the invisible stitching with dissolving material & to my surprise was told that he always does that! (Must be a new vet - none of my previous dogs have had anything but ordinary stitching.) Because they needed to do a bit of cosmetic surgery to tidy him up, they also prescribed antibiotics.




Humphrey came home with a blue donut collar which was fine while he was sleepy but soon proved no challenge whatsoever to stretching around & having a lick & nibble. We bought a lampshade from Pets at Home which is much kinder that the vet issue ones - softer around the neck & on my legs! Does have some shortcomings though - no loops for the collar & the silly clip things come off. I solved that with a bit of green garden tie wrap that kept it together. We only put that on him when there was no-one around to keep an eye on him. The rest of the time we used the donut which was a bit of a deterrent. We did try the tshirt & pants ideas but they proved no challenge to Humphrey who escaped from both!




What surprised us was after a bit of interest, Humphrey didn't really take much notice of the wound after a couple of days. Again following a suggestion made, I put occasional dabs of sudocreme on which he wasn't too keen on the taste of. The wound healed much more quickly than they usually seem to as well & he didn't need to wear a collar after a week.




All round a much less stressful experience than we've had before. Thank you to everyone for the advice!